Pinolino
Pinolino develops, manufactures and markets since 1997, a wide range of children's furniture, accessories and toys. It is headquartered in Münster, Westphalia, where are employed in sales and administrative staff of 30. Here you have a young, motivated team for any questions about your order is available and provides the optimal execution of your orders.

Pinolino produces its wide range over an area of 30,000 square meters in Brasov, Transylvania. There will be manufactured with 180 employees in three own factories:

• Wood Processing
• welding workshop and
• sewing.

The compelling combination of market-driven products, good service and reasonable prices Pinolino makes the right partner for major clients and retailers. The ambitious goal of the company is to achieve at all levels maximize customer satisfaction. Take advantage of our strengths:

• Extremely short lead times for over 1,200 products through a large central warehouse in Muenster.
• Reliable supply of sophisticated and efficient logistics.
• Positive solutions and personalized service, such as direct mail to your customers.
Hemsida: http://www.pinolino.de/engl/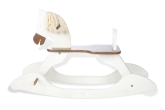 - Helt massivt trä: Gran, vit och brun glaserad- Syn...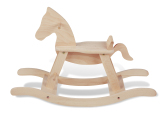 - Helt massivt trä: Bok, obehandlad- L 86 cm, B 31 c...

- Helt massivt trä: Gran, obehandlad- L 100 cm, B 10...